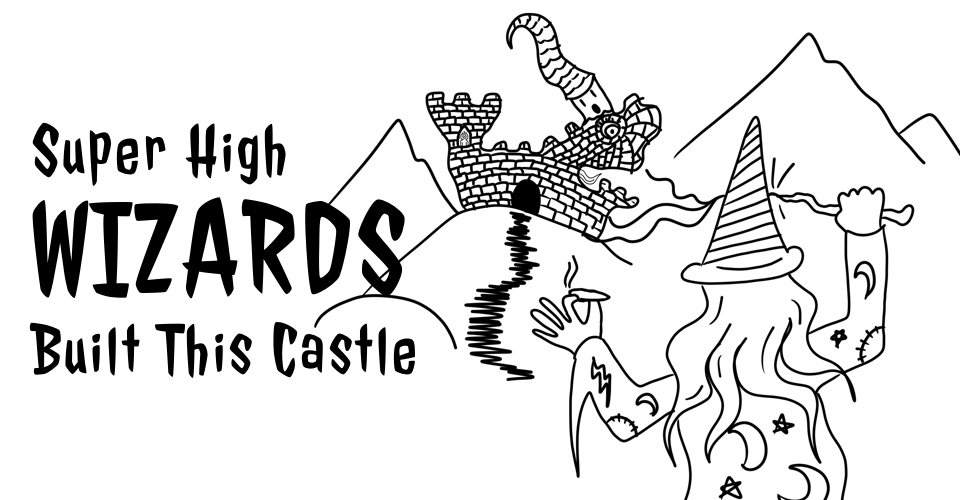 Super High Wizards Built This Castle
This game is a one-page, one-shot, d6 based RPG.
There's only one thing I know for certain: This castle was built by super high wizards.
How can I tell? Well, one of the dining rooms eats people. And if you go down the hall and to the left, you'll find a library that fills your pockets with 1,000 disappointed gnomish fathers.
In Super High Wizards Built This Castle, you play a contractor who has been hired to fix mundane problems in a chaotic castle built by wizards who were stoned out of their minds.
Are you a mason? Great, some of the stone-work in the dungeon needs to be repaired, but you should be a little careful because the ceiling is made of just lightning EVERYWHERE.
Are you a plumber? Awesome! In the kitchen, there's a sink with a clogged drain. One problem: That room turns all fabric into people.
How about an electrician? The chandelier in the secret room is always blowing bulbs. When you go in there, just remember that room makes you think you're made of delicious sandwiches.
These chaotic room effects are all generated using the tables included in Super High Wizards Built This Castle, and are the obstacles your mundane contractors will have to face to complete their jobs.
But the chaos doesn't end there. You'll also encounter creatures such as insectoids with glass spikes and teleportation abilities. Or, you might run into a demon with 1000 eyes and a voice that's just lasers.
You never know what chaotic, magical nonsense you'll run into in this castle. I really can't stress this enough: the wizards who built this castle were severely impaired by tons and tons and tons of high potency wizard drugs.
---
Check out my Patreon for early access to my games as well as exclusive content.
Download
Click download now to get access to the following files:
SuperHighWizardsBuiltThisCastle.pdf
228 kB